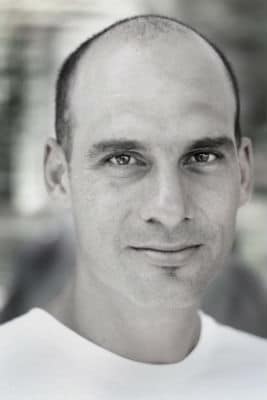 Boaz Colodner is the owner of Nekudat Maga clinic in Jerusalem Israel Nekudat Maga Clinic, and runs a busy clinic since 1999.
He practices Acupuncture – Japanese style intensively since 2004, along with his unique soft tissue manual therapy techniques and herbology. Boaz Colodner has been teaching acupuncture and related topics since 2001.
Education
1996-2000 ◊ Graduate of the Israeli College of Complementary Medicine (ICCM)– Acupuncture, Herbology, Shiatsu, Tuina. ( Pacific College San Diego Affiliation)
1998-2008 ◊ Annual educational visits to Zhejiang Provincial Hospital of TCM – Hangzhou, China
2000-2005 ◊ Different and effective acupuncture technique courses: Richard Tan's balance method, Master Tung's Acupuncture system, Y.N.S.A, Chinese Sculp acupuncture ( Dr. Yao Qi Cong ) and more.
2005-2008 ◊ Graduate of Prof. Maurice Mussat's : Energetics of the Living System
2004 to this day ◊ Extensive Studying and graduate(KMI) of Japanese Acupuncture under the guidance of Sensei Kiiko Matsumoto and Ran Kalif. Utilizing different techniques of the most prominent practitioners of japan: Kyosho Nagano, Yoshio Manaka, Osamu Ito, Isaburo Fukaya, Dr. Yamamoto,Yoshihiro Kawai and more.
2012 to this day ◊ Extensive study with Dr. Stephen Kaufman- Chiropractor and Acupuncturist and founder of PNT.
Teaching experience
Boaz Colodner is the founder and owner of the largest acupuncture center in Jerusalem, and many students of Acupuncture come to work as apprentices in his busy clinic for many years.
Senior lecturer at the Reidman college of complementary medicine since 2002 teaching the following topics:
Clinical supervision, Acupuncture Orthopedics, Clinical strategies, Manual Therapy.
Boaz Colodner has developed a 2 year post graduate program of Acupuncture – Japanese Style, incorporating his many years of clinical and teaching experience. This graduate program is now being launched here as an online video course.
He also teaches many workshops in Orthopedic acupuncture, skeleton imbalances and unique pain management techniques.