Top 8 recommended Books on Acupuncture ~ Japanese Style
I must admit that most of the books that I have bought throughout my professional career, are collecting dust in the attic. I used to buy almost any acupuncture book that came out, and in the early 90's every book that came out was an event. Still, most of them proved to be clinically not as promising as I expected to say the least.
There a few books, that I read again and again, or books that I open on a regular basis to collect some more clinically valid gems. So here is my list of my top 10. I must emphasize that my criteria of top 10 is especially based upon how clinically valid they are, and how they have enriched my work understanding and clinical results.
Clinical Strategies – in the spirite of master Nagano Vol1 and Vol2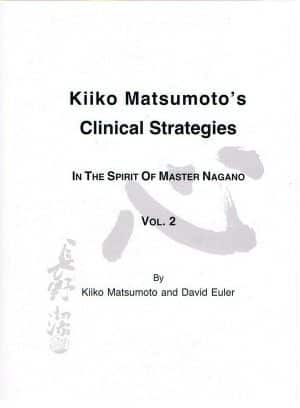 These two volumes which are actually one book, are sensei's Kiiko Matsumoto Most recent book. This book is mostly dedicated to the genius work of Master Nagano, though there are many special moxa points of master Fukaya, special treatments of Master Manaka, and Master Kawaii. This book is a real treasure. A real clinical book, that is opened and read on a daily basis even after many years of practicing and teach
ing this system of acupuncture. Probably the most clinical useful book there is, and written in an easy and comfortable manner. I purchased the first edition of this book, and recently bought this book again, after some 15 years since the first edition.
In this book you will find theory, how to clinically apply this theory with the most amazing results, and case histories to deepen the understanding of treatment and treatment method and application.
Extra Ordinary Vessels
This is probably one of the most thorough work and study of the Extra ordinary vessels. First half of the book is a deep understanding and historical view of the application of the extra ordinary vessels. Second half is different applications of different masters and approaches to the extra ordinary vessels, including Master Ito's Magnet therapy using the extraordinary vessels.
Great book by Kiiko Matsumoto and Stephen Birch !!
Chasing the Dragon's Tail
This book is my all time favorite. The vast amount of information in this book can last a life time of work. Through the brilliant X signal theory, and the use of Ion pumping cords, extra ordinary vessels, Moxa points, Auricular point selection, selected and prove points for different ailments, and some chapters explaining the math and science of acupuncture, this book is definitely a master piece.
Finding Effective Acupuncture Points
This on the other hand is a much smaller book, with "only" point functions. Yet, every point in this book is straightt to the point, no non sense, no extra theory, just practical and clinically effective description of Master Shudo Denmei's amazing clinical experience with these selected points. This book can sit in the office, or can even be a bed side story, learning of such amazeng experience using these acupuncture points.
 The Moon Over Matsushima – Insights Into Moxa and Mugwort
At last, a great book about moxa. For a variety of reasons moxa therapy was pushed to the sidelines by many acupuncture practitioners, maybe because the smell, maybe because it requires more attention and work than just putting some needles. For sure one of the reasons was because there was not much if any at all professional literature about the subject. So, thank you Merlin Young for writing this wonderful book about moxa therapy. This book consists of some history, traditional uses, research, and clinically proven point combinations. A must for all you moxa lovers
Hara Diagnosis – Reflection on the Sea
Another great one by Kiiko Matsumoto and Stephen Birch. A master piece about Japanese Acupuncture, theory, and a lot of practical and useful information. in this book you will find deep understanding of abdominal diagnosis, theory and research. A lot of information about Manaka's ion pumping cords, and the extra ordinary vessels.
Shonishin: Japanese Pediatric Acupuncture
As a father to two wonders, there has been always a conflict in me, on the one hand wanting to treat my children with the wonders of acupuncture Japanese style yet on the other hand never wanting to cause them discomfort. Shonishin- a Japanese style pediatric system of " acupuncture without needles". This book and DVD, can really get you started treating children efficiently and with no harm or pain. This book is easy to read and understand, and the video really helps the final touch ups understands this system.